The future of food systems and biodiversity regeneration
No one solution fits all nutrition problems
Solutions-based management of the food system is "one of the biggest levers we have to address major global social and environmental challenges in one go," as Gillian Diesen of Pictet Asset Management' Thematic Equities team told her audience at this year's Klosters Forum. But forum participants had various views of what those solutions should be.
Diesen argued that, first, three key questions need answering. How can we convince people to stop consuming food products that were bad for them? Can technology investments in areas such as lab-grown meat and plant-based food be a solution to food resource problems? And how can one guarantee food security while preserving biodiversity and the environment.
Forum participants identified several problems contributing to demand for unhealthy food. People's 'sweet tooth' and social pressure – ie "if all other kids are eating candy, it is hard to prevent your own from doing so" – meant nutrition and nutritiousness have long been thorny issues in the western world. Even food advertised as vegan contained a lot of additives, participants pointed out. And then there was the problem of conflicting messages – not least because some products have developed a reputation for healthiness even though they're not.
The role of governments came up for scrutiny. "The question arises whether government should interfere with food choices the same way as they do in drugs," said one. Admittedly, governments face a conundrum: how to reconcile cheap food for urban dwellers while ensuring a decent income for farmers. And where does responsibility for ensuring nutritious food is available and accessible "in an epoch where people have less time to cook?" asked one participant.
The practical solutions participants proposed ranged from cutting down the packet size of sugary and processed foods to making bigger efforts to educate consumers on nutrition. Some went so far to advocate the same kind of clampdown on advertising sugar products as the one on tobacco. Some participants said governments also had a role ensuring technology-based food solutions were made more investable by providing more guarantees and ensuring genuine traceability.
The cost of outsourcing our diet
Average caloric and nutrient intakes for US individuals 2 years of age and older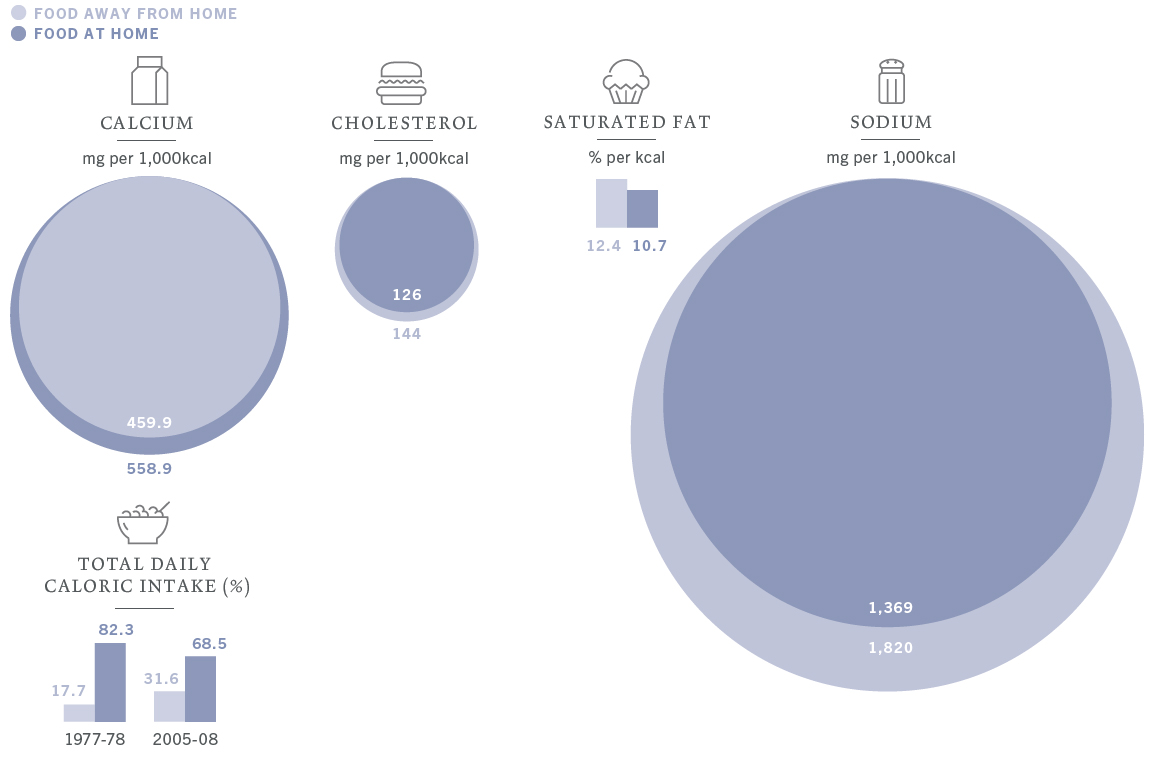 Source: USDA, Nutritional Quality of Food Prepared at Home and Away From Home, 1977-2008, December 2012
As for the question of new technologies' role in ensuring food security, there was broad recognition among the forum's participants that while more economic incentives were needed for farmers to provide more nutritious food, there's also the risk of over-dependence on some technologies. In any case, one participant pointed out, "nothing can mimic natural photosynthesis." There was also recognition of the need for a "common language" consisting of globally accepted standards, protocols and metrics to advance the cause of food security and sustainability.
Other participants questioned the idea of understanding food resources as a single problem. "Just as in climate change, perhaps by considering the issue of food resources too narrowly, we may be forgetting other issues. We might even be creating problems," one suggested. Yes, climate change and population growth are concerns, but the technologies that enabled the likes of lab-grown meat were seen as "linear monoline solutions to multilateral, non-linear problems," she said.
Press contacts:

Olivier Duquaine Managing Director, Backstage Communication

Gunther De Backer Partner, Backstage Communication