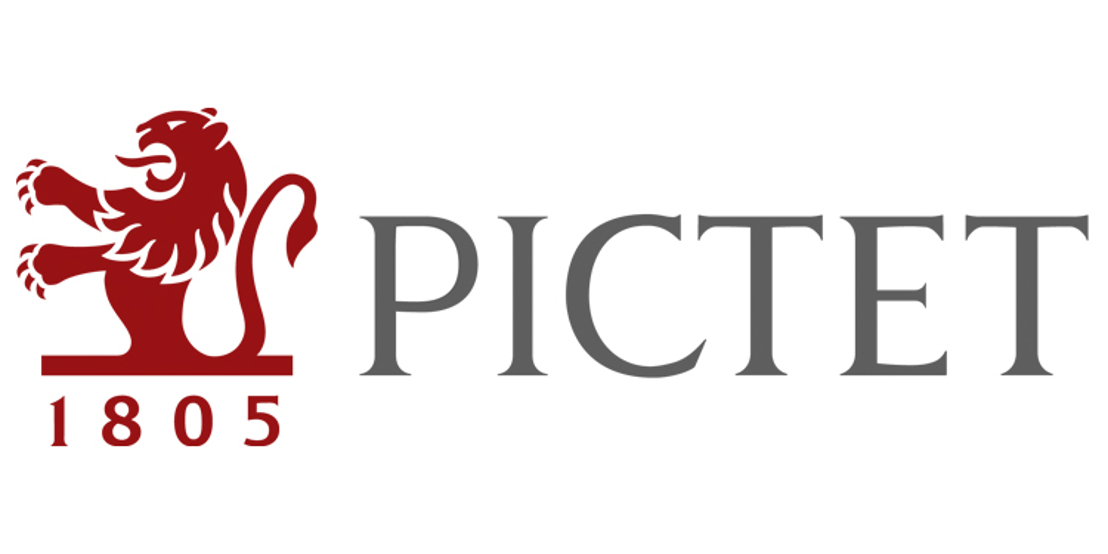 Pictet-Timber: "this precious wood!"
Christoph BUTZ, portfolio manager of the Pictet-Timber fund, gives an update on the timber theme and the prospects for the coming months.
As a reminder, Pictet-Timber invests in companies active in the sustainable wood value chain.
This includes companies financing, planting, and managing forests as well as the production and distribution of wood for construction and other services and products derived from wood. We focus on companies that sustainably manage their forests, therefore ensuring that trees are replanted, nurtured, and al- lowed to regrow to capture CO2 and help to maintain biodiversity. The fund was awarded the "Towards Sustainability" label and is compliant with Article 9 of the SFDR Regulation.
Performance
As of 24 September, the fund generated a YTD performance of +19.40% (I EUR share class), compared to +19.42% for the MSCI AC World. The fund had a strong performance at the beginning of the year (+28.44% as of 10 May, compared to +10.62% for global equities), benefiting from the market rotation towards more cyclical and value stocks, before correcting in May. Interest rates started to fall again, and the ISM manufacturing indicator slowed, triggering a sell-off in more cyclical commodity stocks.
Historically, the fund is closely correlated to the direction of interest rates and the economic cycle. The recent correction period surprised the market, despite the usually very volatile wood prices. Prices had reached highs and then fell back to their historical average during the summer. But contrary to expectations, the cause was not US housing construction, but weakness in the DIY and renovation market, which accounts for about 40% of total US lumber demand.
A sustainable strategy with high environmental impact1
The strategy invests mainly in companies that own and manage forests in a sustainable way, but also along the entire wood value chain (wood products for green buildings, packaging cardboards, hygiene products etc.). Wood is increasingly being used as a sustainable substitute for chemicals, which are currently manufactured based on oil. The fund is an excellent response to the challenges of sustainable development and the fight against global warming.
Encouraging long-term prospects2
Wood price upside potential: Forest land prices have doubled or even tripled over the past 30 years and our portfolio managers remain very positive on this segment. Timber prices have normalized. They should start to rise again by the end of the year, in 2022 and in the longer term. And despite the correction, 2021 will remain an exceptional record year for our companies.

Growth of the U.S. housing market: The U.S. housing market is an important driver for many of our companies and remains very strong. The homebuilder confidence index has returned to its long-term average of 1.5 million units since the 2008 crisis. The last decade has seen a deficit in house building, which will be reflected in increased demand in the coming years.

A paper packaging market driven by environmental protection: E-commerce and global efforts to eliminate plastic in packaging are important drivers of demand and growth for paper-based packaging.
Portfolio allocation as of 31 August 20212
› Our portfolio managers invest along the entire wood value chain:
– Forest owners, which represent the core of the strategy: Rayonier (5.8% of the portfolio), Weyerhaeuser (5.3%) and (4.3%) in the US.
– Wood producers: West Fraser (5.3% - largest producer of lumber and OSB in North America) and Interfor (2.7%).
– Wood products producers: International Paper (2.9%), Westrock (3.0%) and Mondi (2.9%) for sustainable packaging
– Pulp producers: Suzano in Brazil (2.8% - the world's largest pulp company)
– Forestry conglomerates: Stora Enso, Svenska Cellulosa Ab (SCA) and Holmen. Stora is one of Sweden's and the world's largest private forest owners, which also owns modern pulp mills and is a leader in liquid and consumer packaging.
› In terms of geographic exposure, we invest primarily in North America and Europe, with a smaller fo- cus on Japan and emerging markets.
› We have a value bias as well as a bias towards small & mid-caps.
Portfolio characteristics at the end of August 20212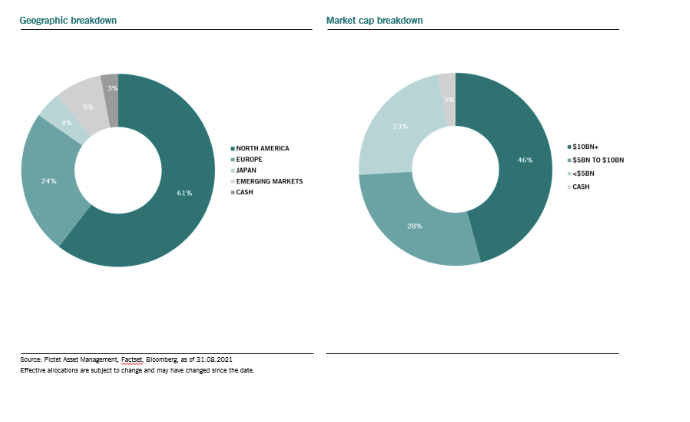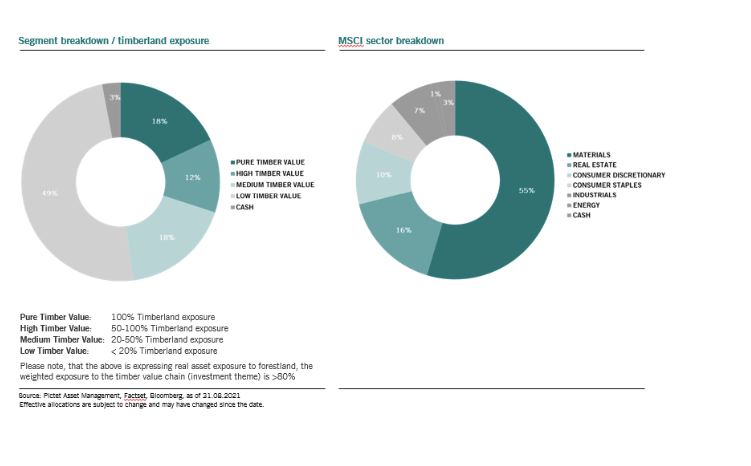 The fund's valuation remains very attractive: in terms of financial ratios (EV/EBITDA, P/B and P/E) the fund is more or less in line with its historical average and is currently trading at a 30% to 50% discount to the broad global market.
The recent period of underperformance of the fund does not reflect, according to our portfolio managers, the economic health of the companies they invest in and the growth prospects of their different segments. They have taken advantage of this consolidation phase to reinforce their strongest convictions. Our portfolio managers remain convinced that the long-term growth drivers of the Pictet-Timber fund, sustainability and the need to act on climate change, are stronger than ever and should lead to a revaluation of the companies the portfolio is invested in.
As of 24 September 2021, the fund had €1'427 million in assets under management.
1. Source : Bloomberg, Random Lengths, US Census Bureau, Pictet Asset Management 31.08.2021
2. Effective allocations are subject to change and may have changed since the date. Stocks are shown for illustrative purposes and may be sold at any time without prior notice and shall not be considered as investment recommendations.
(Link to presentation and webcast, slides in English, narrative in French).
Press contacts:

Olivier Duquaine Managing Director, Backstage Communication

Gunther De Backer Partner, Backstage Communication