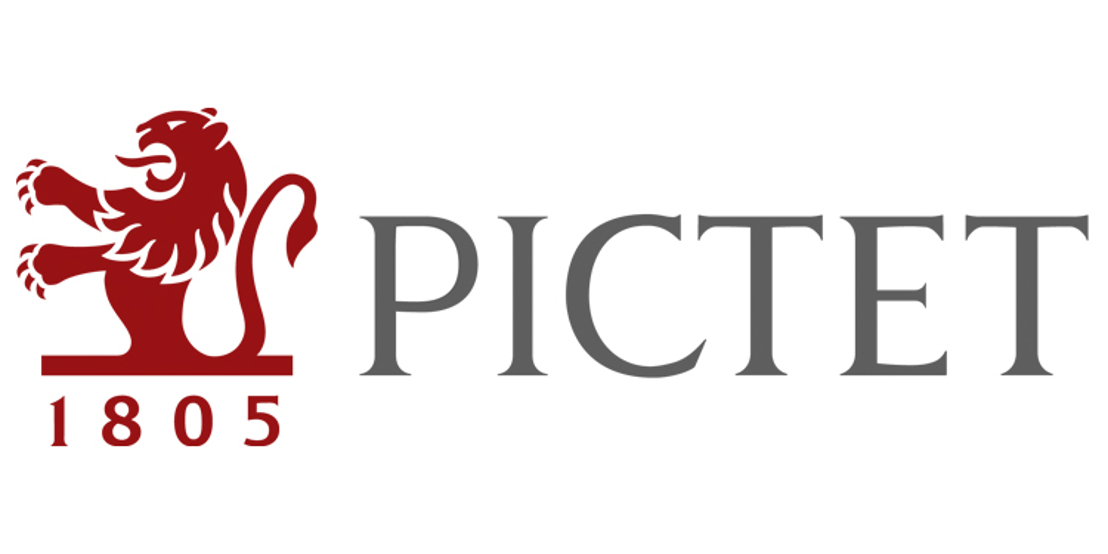 Pictet-GEO: « Finance loves the environment, to the extreme? »
Gabriel Micheli, manager of the Pictet-Global Environmental Opportunities ("GEO") fund.
Performance1
Since the beginning of the year, the fund has returned +18.64%, compared to +19.42% for the MSCI World AC index.
After two years of very strong performance, the fund experienced a period of consolidation during the market rotation in February-March this year. The rapid rise in US interest rates led to profit-taking in renewable energy stocks, which had risen sharply and reached high valuation levels. Then, as rates fell, there was a rally in growth stocks. Over the last three months, the fund has returned +9.66%, compared to +3.87% for the MSCI World AC index.
A global approach to environmental issues
Growing awareness of environmental risks is driving economic agents to act to safeguard natural resources.
As a reminder, the fund invests in companies that offer products and services to address environmental challenges and that respect the environment themselves. To do this, our portfolio managers use the unique scientific framework of planetary boundaries, which takes into account nine key environmental factors (freshwater use, climate change, biodiversity loss, land use changes, nitrogen and phosphorus cycle, ocean acidification, ozone depletion, aerosol loading and chemical pollution) and specifies the respective thresholds that humanity must not cross or irreversible environmental damage will occur. This approach reduces the investment universe of some 40,000 listed companies worldwide to a universe of around 3,500 companies.
The portfolio management team then focuses on companies that provide products and services that address environmental challenges through innovation, technology and the intelligent use of natural resources, i.e. around 400 companies. The bottom-up investment process then results in a concentrated portfolio of around 50 stocks.
The fund has a significantly lower environmental footprint than the market on each of the nine key environmental dimensions. It is classified under Article 9 of the SFDR Regulation. It holds French, German and Belgian SRI labels.
A very positive outlook supported by environmental investment plans around the world2
2020 was marked by the announcement of massive government policies in favour of the environment. These plans will result in significant investments over the next few years (European Green Deal followed by the European Recovery Plan, Biden Administration Plan, Boris Johnson's "Green" Industrial Revolution, carbon neutrality by 2060 announced by China, and 2050 for Japan). While 2050 may seem a long way off, it is now that major efforts must occur. To meet the Paris Agreement target, a 7% reduction in carbon emissions must occur worldwide each year by 2050.
Within the energy efficiency segment, the economic recovery and technological transformation are supporting the demand for semiconductors, which are needed for vehicle electrification, industrial automation solutions and consumer electronics. The market is currently facing a shortage of semiconductors. The energy efficiency segment should therefore continue to perform very well.

The paper packaging and recycling sector is seeing an increase in demand due to the strong growth in e-commerce, which should benefit our positions in packaging and recycling companies.

The renewable energy sector is experiencing a short-term slowdown. Europe, Japan and the US have set themselves the target of becoming carbon neutral by 2050, China by 2060. World summits are multiplying in this direction. According to the IPCC Report, 2020 was a remarkable year with a 7% drop in CO2 emissions. If the decarbonisation plans come to fruition, the outlook for the sector is therefore very positive.
A well-diversified portfolio invested in quality companies2
The portfolio management team invests in environmental solution providers, focusing on those with high margins, strong profitability, healthy balance sheets and business models that do not rely on government subsidies. The team focuses on technologies that are in the improvement phase or already mature. This positioning allows them to maintain good visibility of cash flows and company attractiveness. They stay away from emerging technologies (hydrogen, new plastic, etc.) where valuations appear to be highly speculative. The fund has managed to outperform the equity markets in recent years with a beta of less than 1.
The energy efficiency segment (semiconductors, industrial efficiency, etc.) represents 37% of the fund, the dematerialised economy (software, remote connection, etc.) 17%, pollution control 14% and waste management and recycling 13%.
Since the beginning of the year, the managers have strengthened:

The energy efficiency segment (weight in the portfolio increased from 30% at the beginning of the year to 37%). Semiconductors have done very well: ASML (2.53% of the portfolio), Applied Materials (2.71%), NXP (2.45%) and Synopsys (3.99% - IC design software). The portfolio managers added to their positions in energy-efficient building solutions providers such as Signify (a Dutch company specialising in the design and production of lighting), and A.O. Smith (North America's leading manufacturer and distributor of water heaters), as well as in automotive equipment suppliers with Johnson Controls (2.91%).

The recycling and waste management segment (from 8% to 13%). In response to strong demand for paper packaging, the team increased its positions in Westrock (2.28% - US paper and packaging company) and International Paper (1.05% - world's largest paper manufacturing group) and participated in the IPO of the Chinese mobile phone recycling company AT Renew.

Water supply (5-7%). The increase in natural disasters such as floods demonstrates a real need to improve water infrastructure and technology.
On the other hand, they have decreased:
Renewable energies (weight decreased from 14% at the beginning of the year to 4%). The portfolio managers took profits on Xinyi Solar (China). Due to rising steel prices and cost pressures, they have significantly reduced their exposure to wind energy and Orsted in particular.

The dematerialised economy (from 20% to 17%). Companies linked to the development of teleworking enjoyed strong growth last year. The portfolio managers have taken profits, expecting a short-term correction in the sector as containment ends and people return to the office.
Portfolio allocation as of 31.08.20212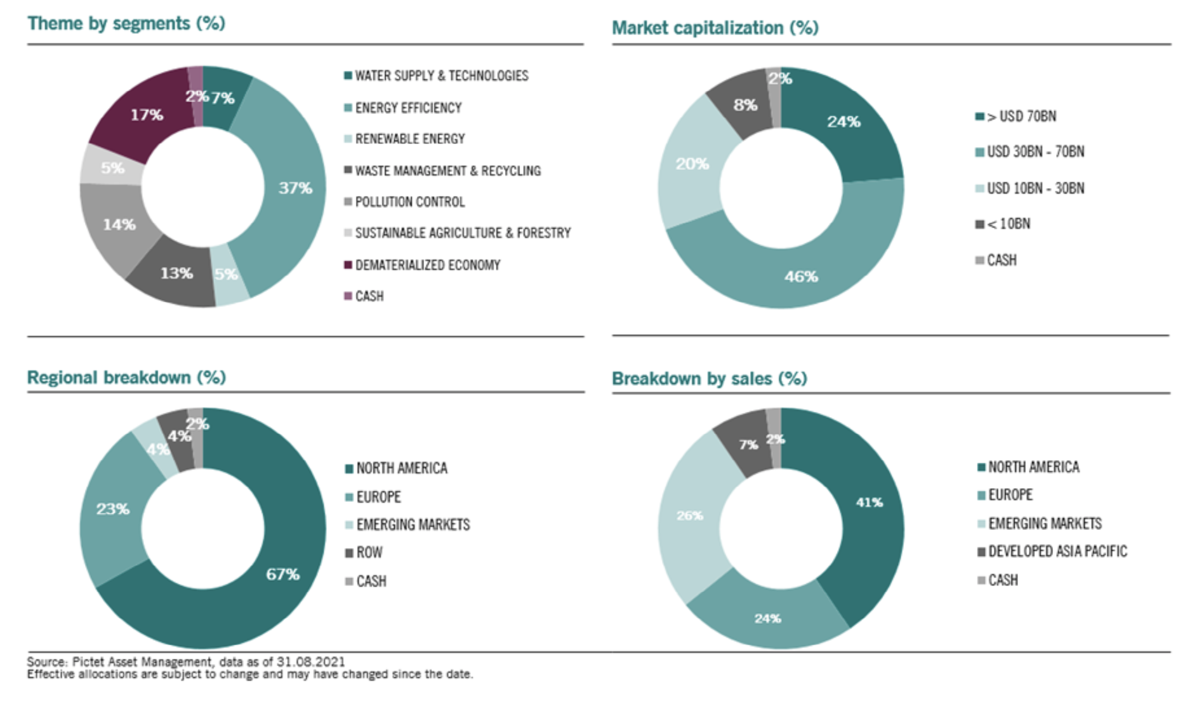 In conclusion, environmental targets and global initiatives are raising awareness of environmental issues, thus supporting the growth of our companies.
1. Performance net of management fees of the I EUR share class as at 24 September 2021.
2. Effective allocations are subject to change and may have changed since the date. Stocks are shown for illustrative purposes and may be sold at any time without prior notice and shall not be considered as investment recommendations.
Performance Pictet-Global Environmental Opportunities -I EUR LU0503631631

(Link to presentation and webcast, slides in English, narrative in French).
Press contacts:

Olivier Duquaine Managing Director, Backstage Communication

Gunther De Backer Partner, Backstage Communication
Disclaimer
This marketing material is issued by Pictet Asset Management (Europe) S.A.. It is neither directed to, nor intended for distribution or use by, any person or entity who is a citizen or resident of, or domiciled or located in, any locality, state, country or jurisdiction where such distribution, publication, availability or use would be contrary to law or regulation. The latest version of the fund's prospectus, Key Investor Information Document (KIID), annual and semi-annual reports must be read before investing. They are available free of charge in English on www.assetmanagement.pictet or in paper copy at Pictet Asset Management (Europe) S.A., 15 avenue J.F. Kennedy, L-1855 Luxembourg, or at the office of the fund local agent, distributor or centralizing agent if any. The KIID is also available in the local language of each country where the compartment is registered. The prospectus and the annual and semi-annual reports may also be available in other languages, please refer to the website for other available languages. Only the latest version of these documents may be relied upon as the basis for investment decisions.
The summary of investor rights (in English and in the different languages of our website) is available here and at www.assetmanagement.pictet under the heading "Resources", at the bottom of the page.
The list of countries where the fund is registered can be obtained at all times from Pictet Asset Management (Europe) S.A., which may decide to terminate the arrangements made for the marketing of the fund or compartments of the fund in any given country.
The information and data presented in this document are not to be considered as an offer or solicitation to buy, sell or subscribe to any securities or financial instruments or services.
Information, opinions and estimates contained in this document reflect a judgment at the original date of publication and are subject to change without notice. Pictet Asset Management (Europe) S.A. has not taken any steps to ensure that the securities referred to in this document are suitable for any particular investor and this document is not to be relied upon in substitution for the exercise of independent judgment. Tax treatment depends on the individual circumstances of each investor and may be subject to change in the future. Before making any investment decision, investors are recommended to ascertain if this investment is suitable for them in light of their financial knowledge and experience, investment goals and financial situation, or to obtain specific advice from an industry professional.
The value and income of any of the securities or financial instruments mentioned in this document may fall as well as rise and, as a consequence, investors may receive back less than originally invested.
Past performance is not a guarantee or a reliable indicator of future performance. Performance data does not include the commissions and fees charged at the time of subscribing for or redeeming shares.
Any index data referenced herein remains the property of the Data Vendor. Data Vendor Disclaimers are available on assetmanagement.pictet in the "Resources" section of the footer.
This document is a marketing communication issued by Pictet Asset Management and is not in scope for any MiFID II/MiFIR requirements specifically related to investment research. This material does not contain sufficient information to support an investment decision and it should not be relied upon by you in evaluating the merits of investing in any products or services offered or distributed by Pictet Asset Management.