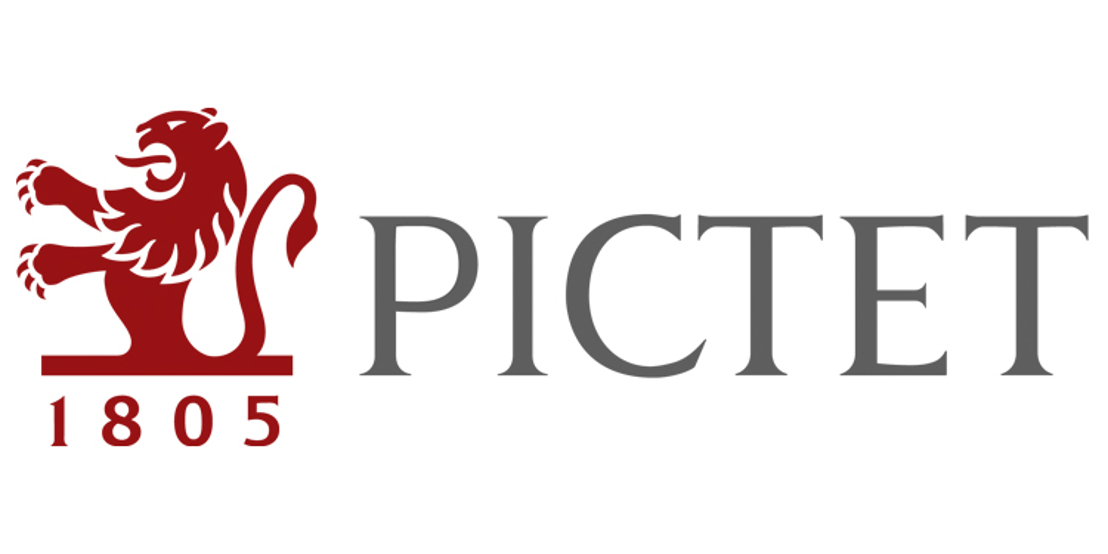 Pictet-Digital: "Digital transformation on hold?"
The Pictet-Digital investment team, gave an update on the Digital market.
By Sylvie Sejournet, Stanislas Effront, Charles Lepetitpas, Anjali Bastianpillai.
As a reminder, the Pictet-Digital fund invests in new interactive and web-based solutions that improve all aspects of our daily lives, such as the rise of innovative sharing platforms, cloud delivery, e-commerce, digital advertising/programmatic software, big data analytics, FinTech, social networks, e-learning, interactive healthcare, online video games, mobile devices and network operators. The fund complies with Article 8 of the SFDR Regulation.
Performance
In 2020, the Pictet-Digital fund generated a performance net of management fees of +22.94%, significantly outperforming the MSCI World AC index (+6.65%). Since the beginning of the year, Pictet-Digital has posted a positive performance of +10.25% against +20.19% for the MSCI ACWI EUR1.
The fund has suffered from the Chinese government's new regulations (personal data of users, anti-monopoly laws, restrictions on online gambling, etc.) through its exposure to Chinese Internet stocks (currently at 17%). The impact of this correction has resulted in a negative contribution of 614 bps in USD since the beginning of the year. The fund's investment team sees this correction as an opportunity to strengthen its convictions, while remaining very selective.
Since the beginning of the year, the best contributors to the fund's performance have been online advertising (+283 bps of absolute P&L in USD), SAAS (Software As A Service) companies (+275 bps) and network operators (+138 bps), while the e-commerce (-328 bps), interactive entertainment (-92 bps) and devices (- 42 bps) segments have underperformed. As a reminder, Pictet-Digital is not invested in Chinese online education, nor carpooling nor food delivery platforms in China2.
China update
Since the beginning of this year, the Chinese government has taken new measures, including anti-monopoly regulations, laws to further restrict the amount of time children can play video games, the obligation for e-commerce platforms to offer alternative payment methods, the implementation of controls on the collection and use of user data and the control of cloud infrastructure providers. These types of measures are not new. In 2018, the Chinese government had already decided to stop the distribution of licenses for new games deemed too violent. In 2019, the government had already introduced a time limit for children to play video games.
These regulations have already been well integrated by the market. Negative earnings revisions of more than 20% for the year 2023 have led to corrections of more than 50% for stocks like Alibaba, Baidu and Tencent. Additional measures could be introduced. But in a worst-case scenario (i.e. +20% earnings cut) Alibaba's FY23 P/E would rise from 10x to 12x, which is still very attractive. Similarly, a 15% correction in Tencent's earnings would generate a P/E of 21x, in line with 2018 when Tencent's valuation reached a threshold following the government's decision to completely suspend the approval of new video games.
The investment team remains convinced that their stocks in portfolio offer an attractive risk/reward profile:
Large companies can manage such changes, as proven in the past.

Positive impact on the ESG scores of Chinese companies, which should contribute to a reduction in the country risk premium.

China's cloud market, currently the second largest in the world in terms of revenue, is expected to quadruple by 2025 to $95 billion, driven in part by the growth of cloud gaming, the acceleration of video in the cloud, and artificial intelligence. Naturally, the companies that will benefit the most will be Alibaba cloud, Tencent cloud and Baidu cloud, which have a 69% market share.

The Chinese environment will become healthier and more reassuring for Chinese consumers, leading them to save less, which should have a positive impact on future Chinese growth.

In addition, the Chinese government is aware of the need to maintain a technological lead in order to compete with the US and sustain its growth, as mentioned in an official statement "technological innovation and the advent of digital industrialization remain a top priority".
End of Covid-19 and reopening of countries: a catalyst for growth
The last few months have been a catalyst for several segments in Pictet-Digital offering products and services whose use has helped to cushion the economic shock, for example by enabling mass teleworking or e-commerce which has helped limit the spread of the virus.
SaaS software is benefiting from the continued growth of IT budgets and the gradual replacement of onpremise software as it offers more functionality, is faster to implement and offers an attractive return on investment by increasing productivity and reducing the need for internal resources to maintain ageing software.

Cloud growth remains very strong and continues to be driven by both data migration and the continued growth in the data to be stored and the computation to exploit it.

Online advertising spending is accelerating as advertisers return to discretionary consumption, while consumer savings have increased sharply since the crisis began.

Similarly, the online travel booking segment is seeing its fundamentals improve as a result of vaccination campaigns and the reopening of countries.
The investment team remains attentive to risks created by the reopening of markets such as wage cost inflation and supply disruptions that could affect low-margin securities. Stocks with reasonable valuations and high margins are in a better position to absorb these additional costs.
Particular attention to current potential market risks
In the context of rising interest rates, Pictet-Digital's investment team is keeping a close eye on valuations, particularly in the software segment where valuations reached a new peak in early September. In the software universe, the team selects stocks where valuations are based on a high and continuous generation of free cash flows with a limited relative risk of multiple compression, such as Salesforce. The risks associated with the over-concentration of large US companies in the indices are also monitored as they sometimes create valuation outliers.
Among the Tech sub-segments, there is a great asymmetry in performance, with FANGs for example delivering an excellent performance since the beginning of the year (around +22%), whereas Chinese Internet stocks have fallen by almost 40%. The fund's investment process makes it possible to take advantage of this dispersion by accumulating stocks offering attractive valuations and free cash flow yields, particularly in the telecoms sector which, in the current context, offers a good risk/return ratio in the face of rising interest rates.
Characteristics of the portfolio as at end of September 2021
The top 10 positions in the portfolio represent 38% of the fund. Following their sharp decline, the managers have strengthened their positions in Tencent, Baidu and Alibaba, which are among the top 10.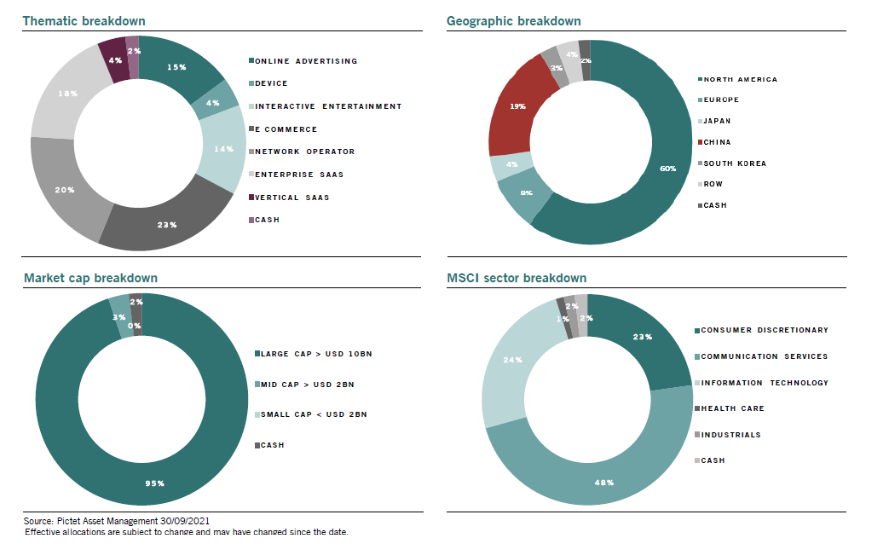 Valuations: The fund trades at a premium to the MSCI ACWI in terms of P/E but this premium has fallen below its historical average. In terms of EV/EBITDA, Pictet-Digital is trading at a discount to the market. Compared to the MSCI ACWI IT, Pictet-Digital trades at a discount both in terms of P/E and EV/EBITDA.
In terms of outlook, the investment team is convinced that the digital transformation is still in an early stage of growth. Within companies, new collaborative software (finance, HR...) is emerging and artificial intelligence is becoming more focused and creating more algorithms. These new trends allow companies to reduce costs and increase productivity. In addition, e-commerce and online payments are consumer habits that will continue. The combination of office and telework creates a hybrid model for individuals. All these factors should support the growth of the Pictet-Digital fund.
As at 14 October 2021, the fund's assets stand at €4,56 billion.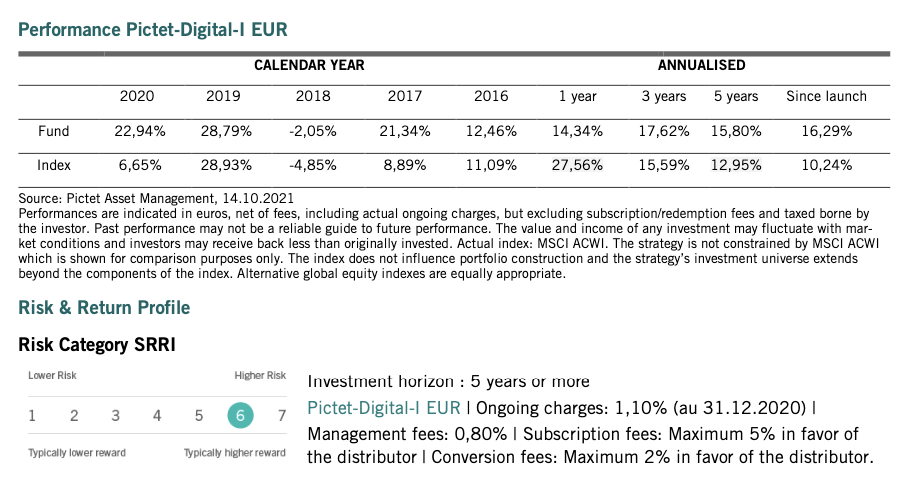 The fund may be exposed to the following risks which are not adequately captured by the synthetic risk indicator and may negatively impact its value: operational risks, counterparty risks, financial derivatives risks, sustainabil- ity risks, investments in emerging markets, and all other risk linked to equity investments in general.
In actively managing the fund, the investment team uses a combination of market and fundamental company analysis with a bias towards companies with superior ESG characteristics to select securities that it believes offer favourable growth prospects at a reasonable price. It also applies an exclusion policy relating to direct investment in issuers that are deemed incompatible with Pictet Asset Management's approach to responsible investment. For further information, please refer to our exclusion framework in the Responsible Investment policy. It methodically exercises voting rights and may engage with issuers in order to positively influence ESG practices. The portfolio composition is not constrained relative to the benchmark, so the similarity of the funds performance to that of the benchmark may vary.
1. Performance of Pictet-Digital-I EUR, net of management fees, and the MSCI ACWI EUR. Dates for 2020: from 31.12.2019 to 31.12.2020. Year-to-date : from 31.12.2020 to 14.10.2021.
2. Gross performance as at 30.09.2021.
Source of data Pictet Asset Management unless mentioned otherwise. Effective allocations are subject to change and may have changed since the date. Stocks are shown for illustrative purposes and may be sold at any time without prior notice and shall not be considered as investment recommendations.
(Link to presentation and webcast, slides in English, narrative in French).
Press contacts:

Olivier Duquaine Managing Director, Backstage Communication

Gunther De Backer Partner, Backstage Communication
Disclaimer
This marketing material is issued by Pictet Asset Management (Europe) S.A.. It is neither directed to, nor intended for distribution or use by, any person or entity who is a citizen or resident of, or domiciled or located in, any locality, state, country or jurisdiction where such distribution, publication, availability or use would be contrary to law or regulation. The latest version of the fund's prospectus, Key Investor Information Document (KIID), annual and semi-annual reports must be read before investing. They are available free of charge in English on www.asset- management.pictet or in paper copy at Pictet Asset Management (Europe) S.A., 15 avenue J.F. Kennedy, L-1855 Luxembourg, or at the office of the fund local agent, distributor or centralizing agent if any. The KIID is also available in the local language of each country where the compartment is registered. The prospectus and the annual and semi-annual reports may also be available in other languages, please refer to the website for other available languages. Only the latest version of these documents may be relied upon as the basis for investment decisions. The summary of investor rights (in English and in the different languages of our website) is available here and at www.assetmanagement.pictet under the heading "Resources", at the bottom of the page. The list of countries where the fund is registered can be obtained at all times from Pictet Asset Management (Europe) S.A., which may decide to terminate the arrangements made for the marketing of the fund or compartments of the fund in any given country.
The information and data presented in this document are not to be considered as an offer or solicitation to buy, sell or subscribe to any securities or financial instruments or services. Information, opinions and estimates contained in this document reflect a judgment at the original date of publication and are subject to change without notice. Pictet Asset Management (Europe) S.A. has not taken any steps to ensure that the securities referred to in this document are suitable for any particular investor and this document is not to be relied upon in substitution for the exercise of independent judgment. Tax treatment depends on the individual circumstances of each investor and may be subject to change in the future. Before making any investment decision, investors are recommended to ascertain if this investment is suitable for them in light of their financial knowledge and experience, investment goals and financial situation, or to obtain specific advice from an industry professional. The value and income of any of the securities or financial instruments mentioned in this document may fall as well as rise and, as a consequence, investors may receive back less than originally invested. Past performance is not a guarantee or a reliable indicator of future performance. Performance data does not include the commissions and fees charged at the time of subscribing for or redeeming shares. Any index data referenced herein remains the property of the Data Vendor. Data Vendor Disclaimers are available on assetmanagement.pictet in the "Resources" section of the footer.
This document is a marketing communication issued by Pictet Asset Management and is not in scope for any MiFID II/MiFIR requirements specifically related to investment research. This material does not contain sufficient information to support an investment decision and it should not be relied upon by you in evaluating the merits of investing in any products or services offered or distributed by Pictet Asset Management.