Emerging Asia's investment hotspots
Asia is not only the world's fastest growing continental economy: it is also, arguably its most dynamic. Its metamorphosis encompasses changes in its demographic make-up, economic models, consumption patterns and corporate structures. For investors, that gives rise to both opportunities and risks.
The region is fast becoming more digital, more urban, more innovative, and more focused on sustainability – structural shifts which investors can best harness through a thematic lens. We see particularly strong potential in five areas: e-commerce, financial products and services, the green transition, semiconductors and Chinese renminbi bonds. China and India should do well, while Vietnam flickers as a potential hidden gem.
The region's distinguishing feature – and part of its investment appeal - is the diversity of its constituents, from the economic and cultural heft of India and China to the technological prowess of Taiwan and Korea.
Fig. - EM Asia's share of global market*, selected sectors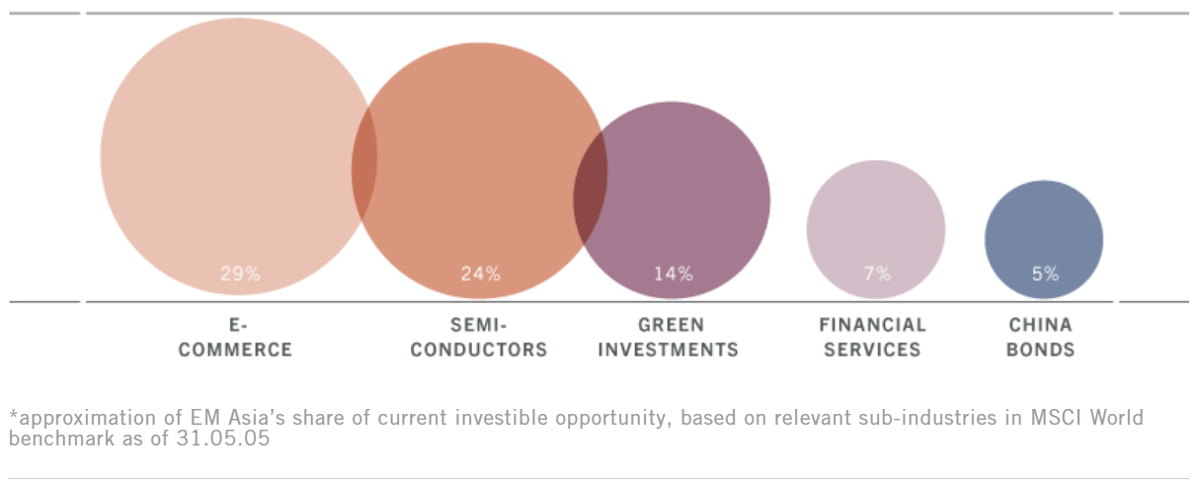 China: Catching up with the US: benefits from a large and growing sphere of influence and an economy increasingly focused on innovation and R&D. Despite its size, China still offers strong economic growth, leadership in sectors such as e-commerce, a currency that is both attractively valued and stable and a defensive asset class in bonds.
India: Best long-term growth prospects in the region and a well-diversified economy. An investor favourite that, despite advantages such as a growing middle class and thriving tech sector, has underwhelmed in terms of performance in recent years: we believe reforms that address bottlenecks to growth, and a changing corporate landscape, including a strong pipeline of tech unicorns, can enable its this economy to achieve its potential.
Korea/Taiwan: World leaders in technology hardware and semiconductors, areas with formidable barriers to entry. Equities offer a cyclical boost to portfolios and protection in periods of a strong ride in the US dollar – typically when traditional emerging markets suffer.
ASEAN: Defensive growth profile. Smaller countries set to benefit from increased intra-regional trade. Within ASEAN, we see particularly interesting opportunities in Vietnam.
Press contacts:

Olivier Duquaine Managing Director, Backstage Communication

Gunther De Backer Partner, Backstage Communication