Building a sustainable portfolio
The property industry is the largest emitter of CO2. By making buildings more sustainable, we can help the environment and boost returns.
Zsolt Kohalmi, Global Head of Real Estate and Co-Chief Executive Officer.
Investors are waking up to the fact that sustainable investing isn't just good for the planet – it can be good for investment performance too. This is particularly true for real estate investment.
Buildings account for 36 per cent of global energy use through their construction and operation. They are also responsible for nearly 40 per cent of energy-related carbon dioxide emissions.1 The ecological footprint becomes even bigger when you consider how much water and raw materials they use up.
Yet, while some climate activists want society to give up flying or eating meat, buildings are more difficult to do without. It's impossible to imagine a world without houses, offices, factories, warehouses and data centres. The onus, therefore, is on making buildings more efficient.
The United Nations estimates that, in order to limit the rise in global temperatures to less than 2 degrees centigrade by 2030, the property industry needs to reduce the average energy intensity of buildings by at least 30 per cent.
Fig. 1 - Big footprint
Building and construction sector: estimated contribution to economy and environment, %

Source: UN Environment Programme
Beyond that, the ultimate goal is to reach "net zero" – in other words, to create a climate-neutral economy. Achieving this by 2050 is at the heart of European Green Deal, and real estate has a big part to play.
The challenge is two-fold: reducing the environmental impact from construction and from the operation of buildings.
Technology can help in both cases. Latest innovations include sensors that optimise energy consumption through smart management of heating, ventilation and other building operation processes. New materials, meanwhile, can make construction and development more sustainable as well as reducing building waste and noise pollution. So too can streamlined processes such as modular construction, where parts of the building are constructed in a controlled factory environment and designed to be easily reused and replaced.
Better for all
Environmentally-friendly buildings make for better real estate investments, too. Research shows that already today buildings with stronger environmental credentials generate higher rents, lower rates of obsolescence, improved tenant satisfaction, lower voids and lower incentives.2 With the environment becoming a priority for those who construct, manage and live and work in buildings, the performance gap between green buildings and their less efficient peers should widen further over the coming years.
This transition has been further accelerated by the fallout from the Covid-19 pandemic, which has spurred a growing appetite for healthy lifestyles and increased concern about pollution.
As active managers of real assets, we have made sustainability criteria a key part of our investment and asset management processes.
Crucially, progress needs to be made not just on new buildings, but on existing ones as well. This is particularly true in the developed world, where the environment is already heavily built-up, and most of those constructions are here to stay. In Europe more than 40 per cent of buildings were built before 1960, and 90 per cent before 1990.3 Furthermore, an estimated 80 per cent of buildings which will be with us in 2050 have already been built.4 And, in fact, it is often greener to refurbish existing buildings than to construct new ones.
Fig. 2 - Room for improvement
Average energy use intensity by property type, kWh/m2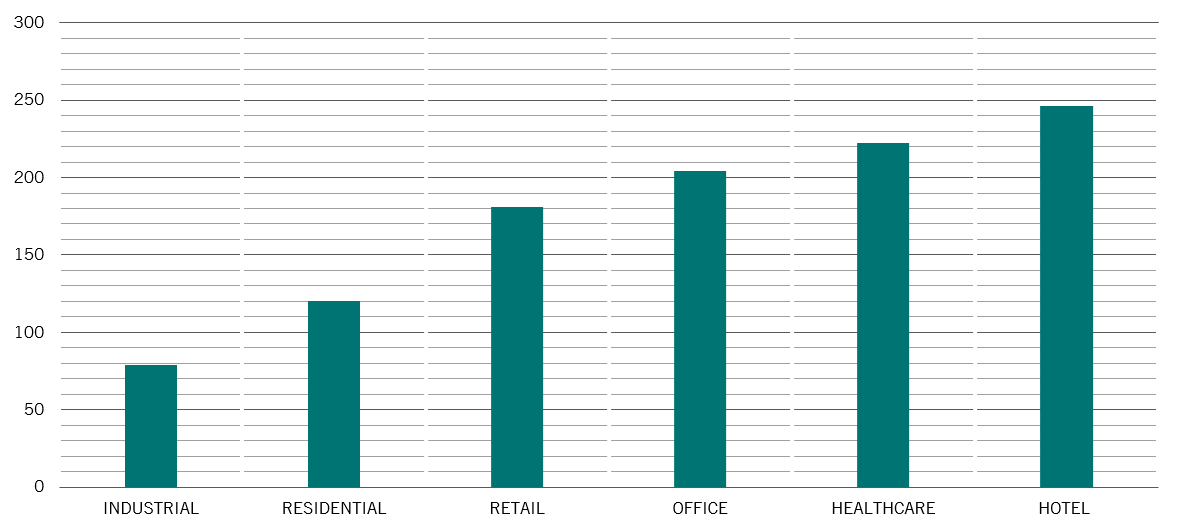 Source: GRESB, 2019
We believe that all types of property assets offer opportunities for significant environmental improvements. Such initiatives can add substantial value to the assets' bottom line, and thus are an integral component of our active asset management strategy. And, in fact, refurbishment can been the greener option versus building from scratch. A study found that new homes gave off 50 tonnes of CO2 during the building process, while refurbished ones gave off just 15 tonnes, and that it took around half a century to close that emissions gap.5
Regulation is becoming more supportive. The EU's "Fit for 55" initiative, for example, includes a requirement for countries to speed up the renovation of buildings that are not deemed energy efficient, and policies to encourage the use of wood rather than concrete in construction.
However, there is still more to be done in terms of creating a proactive regulatory environment and providing the right incentives, including more ambitious financial schemes to encourage retrofitting. There is also the need for a more unified approach to the measurement of sustainability criteria, with the industry currently relying on a disparate selection of global, regional and national certifications for green buildings which make meaningful comparison difficult.
As investors, our goal is to make every building we own as environmentally efficient as possible. In our multi-use building in the heart of Madrid, for example, we are looking to install reduced flow water taps that decrease water consumption by up to 40 per cent, provide bicycle parking for employees, and put in a circadian lighting system.
The rise of the Internet of Things – fuelled by faster 5G internet connections – will open up even more possibilities to control building environments for optimal efficiency and well-being.
We believe that investing in making buildings sustainable is not only a way to add value for our clients, but also the responsible thing to do for our planet.
[1] UN Environment Programme, "2020 Global status report for buildings and construction"
[2] "Decomposing the Value Effects of Sustainable Real Estate Investment: International Evidence", A. Devine, E. Yonder, 2017
[3] "Boosting Building Renovation: What potential and value for Europe?", European Parliament, 2016 https://www.europarl.europa.eu/RegData/etudes/STUD/2016/587326/IPOL_STU(2016)587326_EN.pdf
[4] UK Green Building Council, hhttps://www.ukgbc.org/climate-change/
[5] "New tricks with old bricks", The Empty Homes Agency, 2008
Press contacts:

Olivier Duquaine Managing Director, Backstage Communication

Gunther De Backer Partner, Backstage Communication